Finally, a Camtasia alternative without designer dependencies, constant crashes, & ridiculous prices
Meet Zing by Trainn, the all-in-one Camtasia replacement for creating and distributing professional instructional videos with ease at a fraction of the price.
Try now →
14-day free trial — no credit card required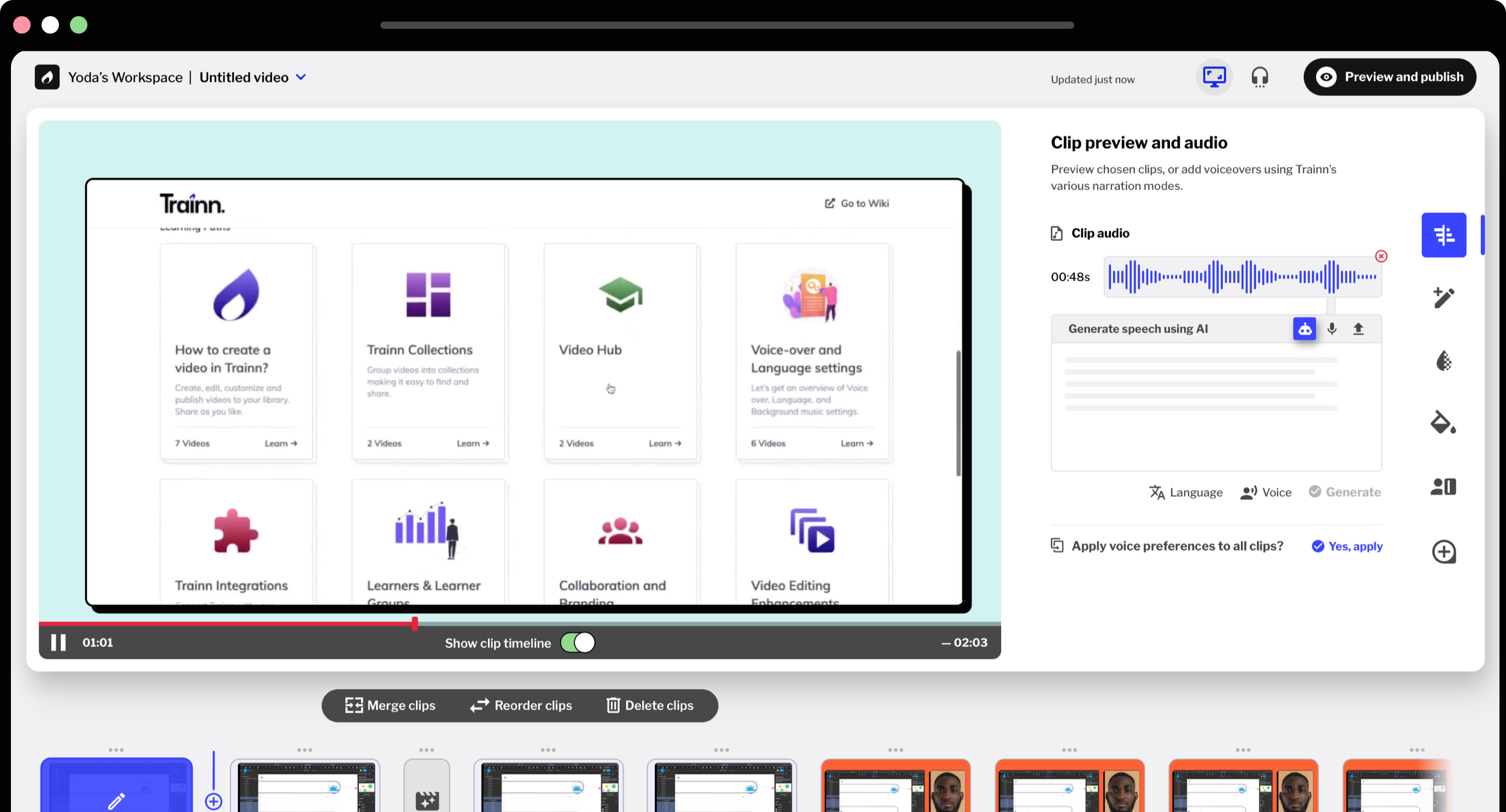 6
REASONS
WHY
Trainn is the best Camtasia alternative.
To Camtasia, it's still the 2000s
Trainn requires zero design or video editing skills
Rich audio and AI voiceovers with Trainn
With Camtasia comes its crashes and bugs
Limited options to export Camtasia videos
Keep your videos evergreen
Bonus: Trainn's pricing that's fair, not low
To Camtasia, it's still the 2000s
To use Camtasia, you have to download a desktop app that requires 1.28 GB of space. Whenever new features are released, Camtasia customers have to pay extra to upgrade. This might be surprising news to SaaS folks like us, who are used to getting new features automatically without needing to reinstall anything.
Trainn is purpose-built for SaaS businesses to create and edit instructional videos online. It is a good Camtasia alternative with AI voiceovers, editing features (crop, trim, split, etc.), automatic zooms and spotlights, in-depth video analytics, and more.
Trainn requires zero design or video editing skills
Camtasia is worth the buck if you have technical knowledge of video editing and a few months to spend just to get the hang of its UI and feature set.
Trainn is shockingly simple and delightfully powerful - for beginners and pros alike. Its smart screen recorder automatically captures your screen interactions and converts them into video clips to make editing easy. It also automagically adds zoom, transitions, and spotlights to jazz up your videos.
Rich audio and AI voiceovers with Trainn
With Camtasia, you can neither record your own voice in high quality nor add voice-overs in multiple languages.
"I'd like to avoid having to record live narration audio for Camtasia files, so thinking a text-to-voice tool would simplify my workflow." expresses an L&D manager of a sustainability management software.
With Trainn, make no compromises on the audio. Hit the ground running with our Trainn text-to-speech converter . Turn your script into voice-overs in any language, accent, and pace. Or record your own voice with zero studio setup.
With Camtasia comes its crashes and bugs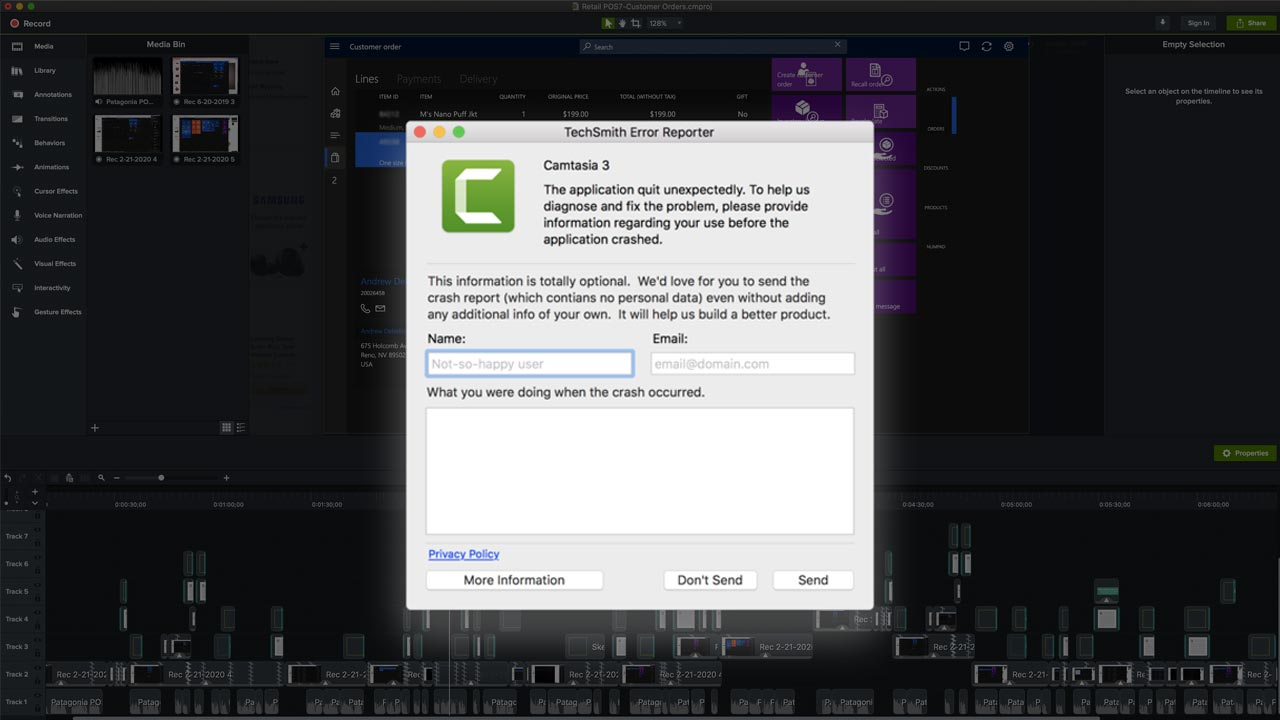 Source: waterbearlearning.com
The biggest drawback of Camtasia is that it often crashes while rendering. Some versions of Camtasia are buggy and cause your system to slow down or freeze. If you are thinking of saving time by using Camtasia - then beware! It is going to test your patience.
A truly modern Camtasia alternative. Trainn is a SaaS application built for SaaS businesses. It is the fast, easy, and fun way to create training videos for your digital product.
Limited options to export Camtasia videos
Want to share videos on the go instantly? Sorry, you can only download videos to your device or share directly to a 3-rd party destination (e.g., YouTube, Vimeo). Several users on G2 crowd report that export options are inconvenient and confusing.
Trainn helps you host, publish and share your videos wherever your customers are. Copy + Paste the embed code or the link to share your videos across your product, socials, website, and more.
Keep your videos evergreen
It could be a problem for SaaS businesses to update their Camtasia videos every time there is a feature release. The only way is that you have to re-record the entire video from scratch.
Trainn lets you make updates on the go. Just change the old clips in the video that needs an update without having to re-record the entire video.
Bonus: Trainn's pricing that's fair, not low
Camtasia has 3 pricing tiers starting at $ 250 per license, and all of them are super expensive for someone that just wants screen recording software. You also have to face annual up-gradation and maintenance costs of $49.75/ year. Fortunately, they offer a 30-day free trial period to try the platform.
Trainn is the most affordable SaaS tool, with Creator Plan starting from $25 per creator/month. We offer a 14-day free trial so you experience this Camtasia alternative first-hand. We don't charge you extra for priority support, 24*7 support, or access to Trainn Academy.
| | | |
| --- | --- | --- |
| | | |
| Screen Recording | | |
| Smart screen recorder | | |
| Screen + webcam recording | | |
| Video presentations | | |
| Convert images/PDF to videos | | |
| Audio & Voiceovers | | |
| In-built AI text-to-speech converter | | |
| Multi-language voiceovers | | |
| Accents and tones | | |
| Record your own voice | | |
| Add / upload background music | | |
| Automated & editable subtitles | | (manually enter subtitles) |
| Clone videos in multiple languages instantly | | |
| Editing | | |
| Sleek video editor | | |
| Trim, split, and crop | | |
| Automatic zoom and spotlights | | |
| Blur | | |
| Custom layouts | | |
| Backgrounds | | |
| Intro & outro images | | |
| Annotations (objects, text) | | |
| Video chaptering | | |
| CTA button | | |
| Brand customization | | (limited) |
| Analytics | | |
| Video analytics | | |
| Learner-level analytics | | |
| Hosting & Sharing | | |
| Host securely | | (Knowmia, Panopto) |
| Share links / embed codes | | (Only download) |
| Branded portals | | |
| Video collection | | |
| Upload & edit videos | | |
| Priority support | | (only if you pay for maintenance) |
Go from creation to distribution
Deploy a self-serve customer training portal using videos.
Launch your own customer training academy.
Camtasia vs. Trainn
So, which is right for me?
Camtasia is a traditional desktop application suited for the 2000s. If you have an extravagant budget to splurge, the energy to run around asking video editors for help, and enormous time to spare, then Camtasia is right for you. Don't forget patience.
Trainn is thoughtfully built for modern SaaS businesses. If you want to create and publish your instructional video in the next 5 minutes, then Trainn is for you. With our smart screen recorder, built-in text-to-speech convertor, automated zooms and spotlights, sleek video editor, and video analytics, we help save you time and money.
Try Trainn today!
Stop compromising on your product videos.
Get started →
14-day free trial — no credit card required