After deducing a stellar adoption strategy, you need to think about a post-adoption strategy: think about your stickiest features — something deeper, sophisticated, and, harder to adopt. These are the features that hold the true value of your product, making it difficult to reject and replace.
Wish you and I were selling air conditioners. We could call it a day after the adoption stage (fit it and forget it!) and make ourselves an appreciation cocktail!
Alas! We're into the SaaS business and have to sell the same product to the same user again and again! (Renewals. duh!) Sounds like a groundhog day, doesn't it? And if you've been following Trainn's blog for a while now you know that we've been preaching that adoption is a never-ending process, at least not at the moment of purchase/sale.
The new buyer who was absolutely in awe of your product this week can easily top your churn chart next month. Probably all that it took to convince them was a slightly better product at a better price!
All the lessons we taught you on taking your customers to that "aha" moment as soon as possible, to help your customer get the most out of your product, was probably something very simple, very basic. Unfortunately, your product's actual value might not be as obvious to your customers as it is to you. The feature you thought would show them value might not be unique enough or convincing to make them stick around.
That brings us to pay attention to the next logical steps. Now that you have deduced a stellar adoption strategy, you need to think about a post-adoption strategy:  think about your stickiest features — something deeper, sophisticated, and, harder to adopt. These are the features that hold the true value of your product, making it difficult to reject and replace.
So how to drive adoption? Pre and Post
You're walking home from the office and this very new signboard gleaming with pop colors and lights grabs your attention. "La Pâtisserie"- the newest bakery in town opens tomorrow, right next door.
You walk up to your room, search for the bakery online - Ah! there they are! browse through their offerings and you're already in love with the menu and want to explore more.
It's morning and you drag yourself out of the bed, half-asleep, getting a whiff of freshly-baked muffins. Those muffins are your only desire for the next couple of minutes.
And the aha moment has driven you to the store, pay the cash, and take your muffin home!
That's the four-steps for a bakery adoption process. Well, I bet that your product is more complicated than a muffin.  
We discussed the different stages in the product adoption process in our last blog. But how is the adoption process carried out to achieve the desired result of the activities at the end of each stage?
Let's take a closer look at how some of our favourite SaaS-stars are executing these 4 stages of an adoption cycle:
Awareness
Potential users are definitely unaware of your brand or product, given the number of new competitors entering the space each day. Let's take a step back. In certain cases, your potential customer might be totally unaware of such a problem, or the importance of resolving it, or that a solution like yours exists. You are ideally looking at customers looking to find answers to questions like: What is it? and how can it be useful for me and my business?
Remember, at this point, you are casting a wide net aiming for maximum exposure, connecting with your potential audience.
Let's take a look at how Basecamp introduces its audience to the problem it solves for them: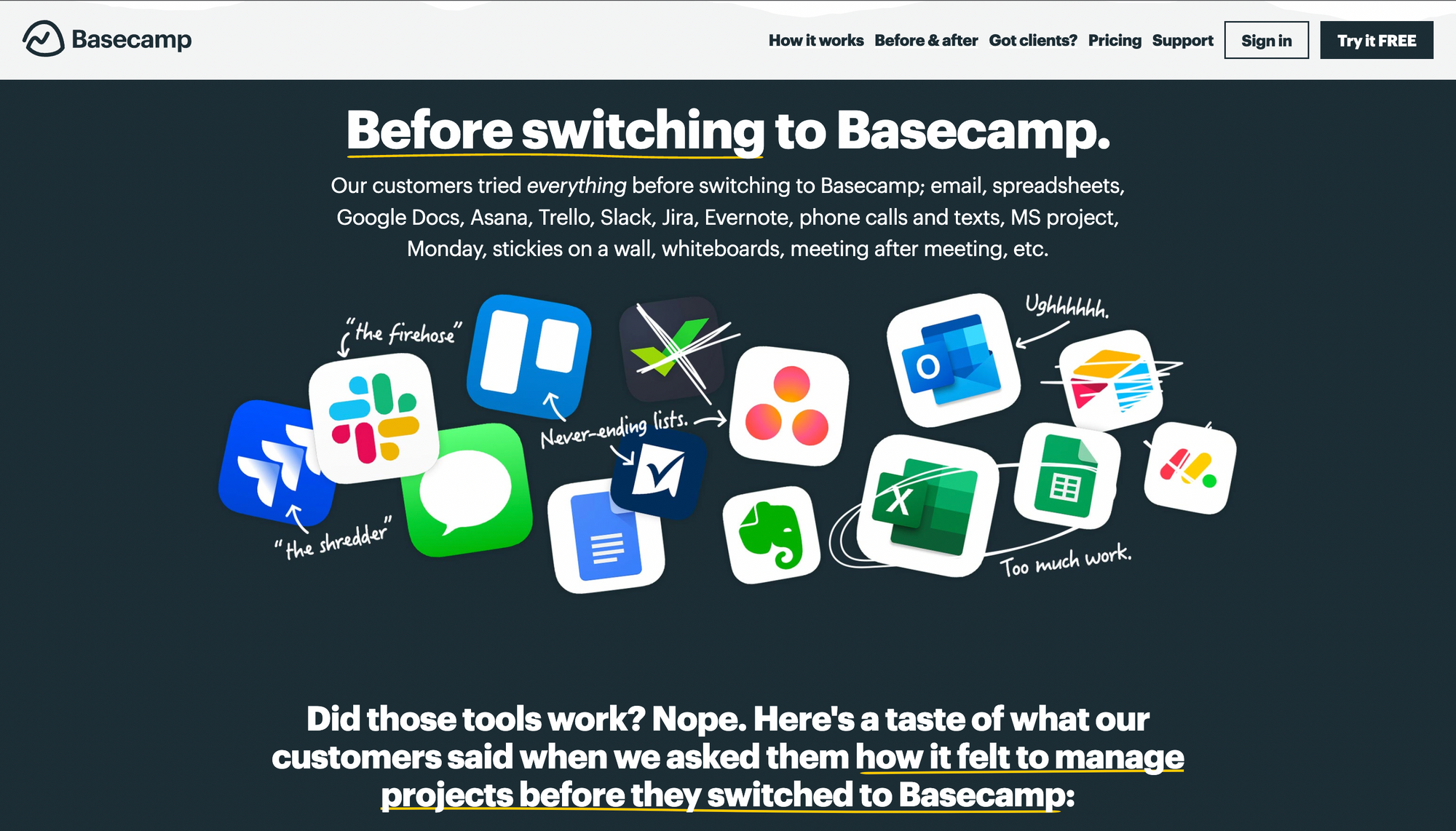 Ah! I can't imagine the clutter I've been swamped with, all these years. There are projects, emails, messages all over the place. Impossible, Stressful, and Difficult. There's basecamp, to get more work done, quicker. Sounds interesting. Let's know more. And that's it. You are now aware and showing interest in a solution that might be the best to address your problem.
The objective is to figure out and crack all the ways to appear where your potential customers might hang out or probably places they look for information.
How can you raise awareness?
1. Provide a clear value proposition
Conduct surveys
Analyse your recursive patterns
Leverage your website to clearly convey your messaging and value
2. Outreach strategically
Use social media, emails
Create more SEO optimized landing pages
Leverage the power videos for outreach
Create your content strategy
Create memes
Take help from influencers
Offer a free trial
2. Interest
Hmm… sounds interesting…! How does it work?
Your potential from the audience collects information from your landing page, website, customer reviews, media publications, talks to your customer support team, or discusses with a friend who's already using your product.
Figuring out everything from features, functionalities, alternatives, price, plans, and trying to find a match, relevance, and ease of use and the learning curve. It is a possibility that they'll leave you at that stage. it's not you, not your product but the level of detailing and difficulty involved in explaining your product intuitively.
Adding to this, your products are usually for multiple audience types. And this makes it harder at the interest stage to show how optimized your product is for each one of these groups. There's a thin line between being the ideal solution and overloading with irrelevant tools.
Canva addresses this problem intuitively: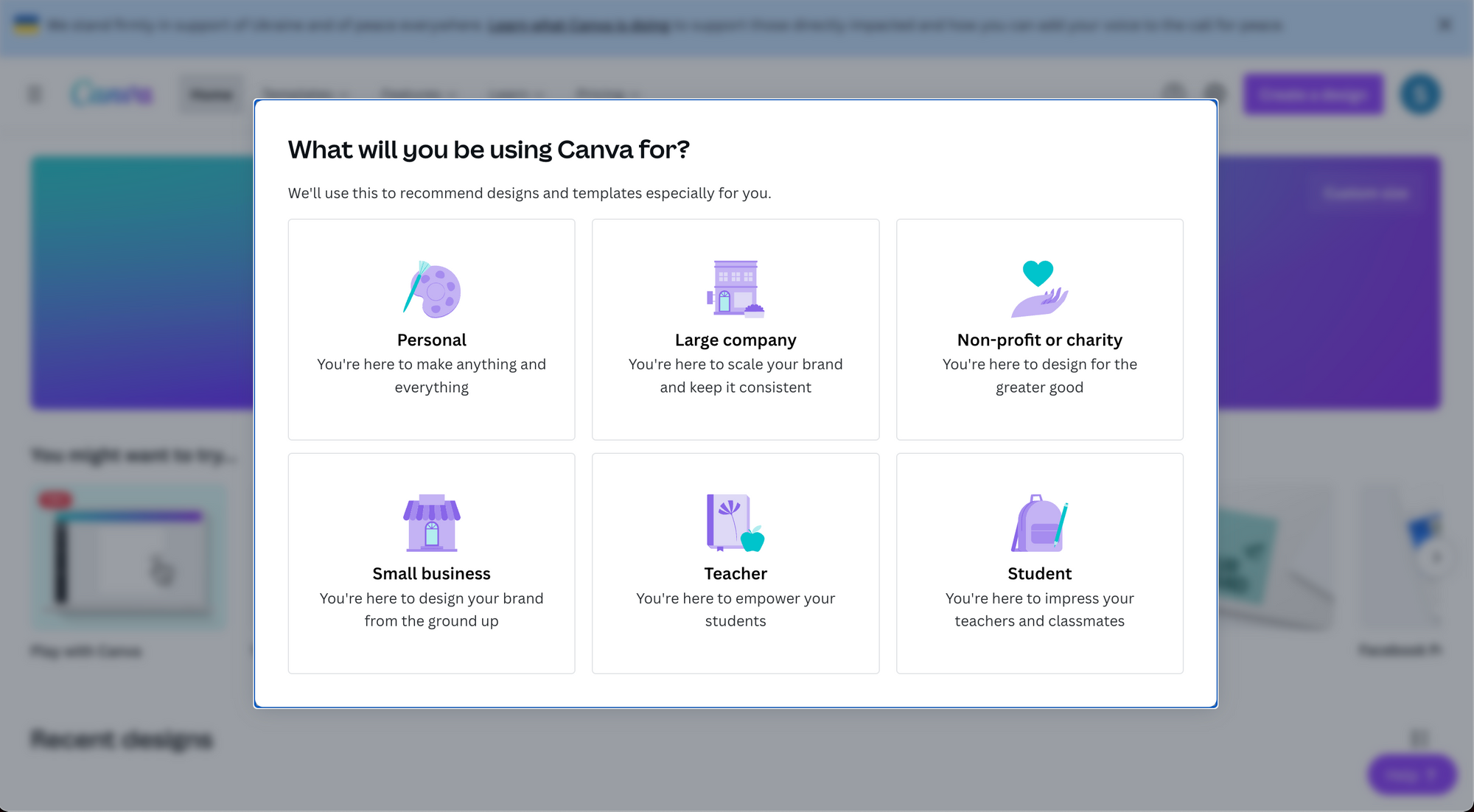 Personalizing the product experience is the very first point of establishing a relationship with your customers.
Your Netflix recommendations is another great example of this.
The objective is to identify and use segmentation to group your customers to create personalized journeys. Highlight relevant features, educate them to keep their attention and empower them with all the information they need to be successful.
What can you do to help customers consider your solution?
1. Use segmentation to personalize customer experience
Segment users by your relevant use case
Create a personalized onboarding experience
2. Help customers with their decision process
Create how-to content for people just starting out
Educate users on topics you have expertise in
Stay engaged with your users throughout their interest phase
Leverage the power of videos
3. Evaluation and Testing
To buy or not to buy. That is the question!
All the drills above must now make sense to the customer and their inner voice must nudge them to try your product. We're going back to Canva once again.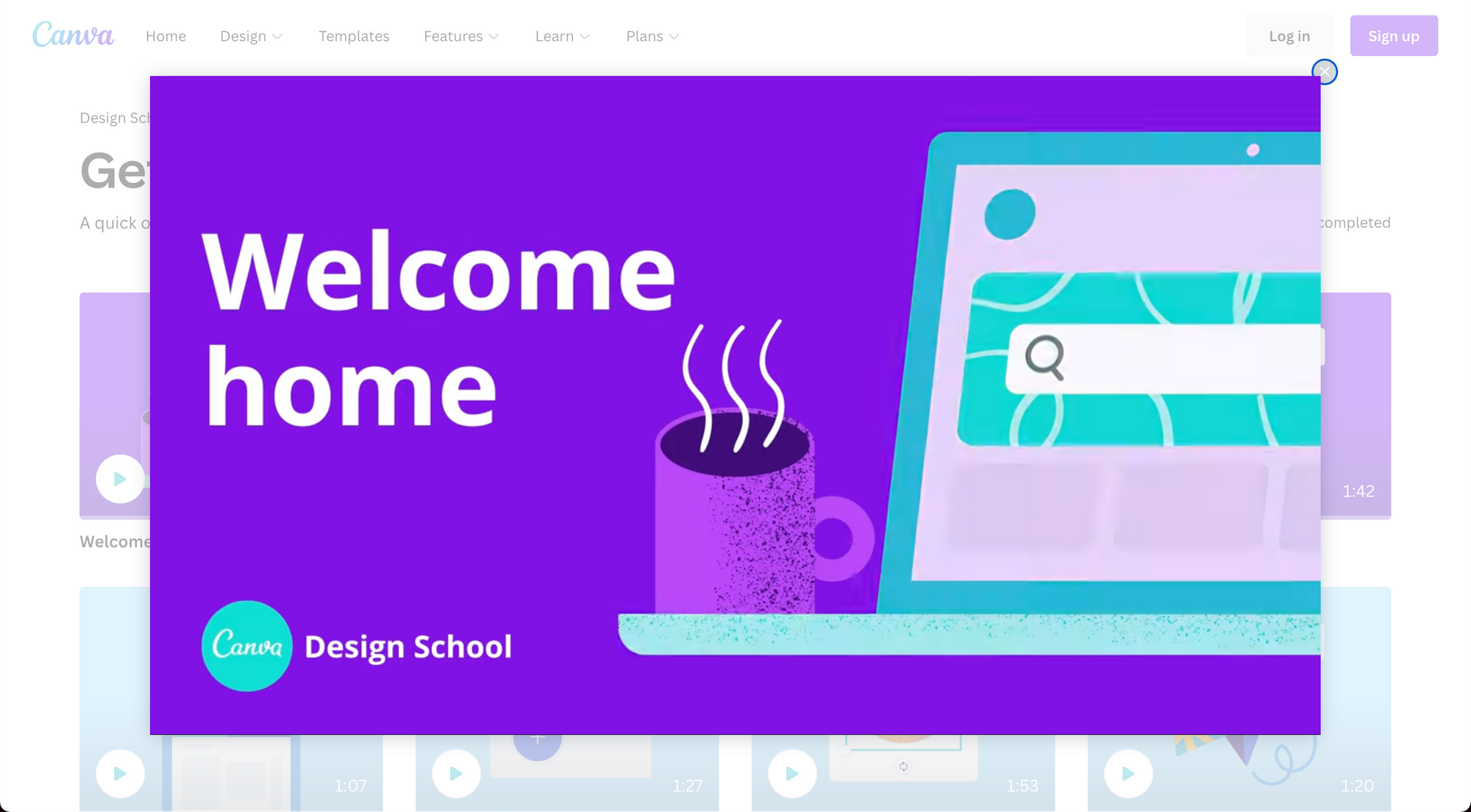 The conversion stage is all about answering the questions your prospects have about your product or service — is this tool or business trustworthy, and will this service actually help me?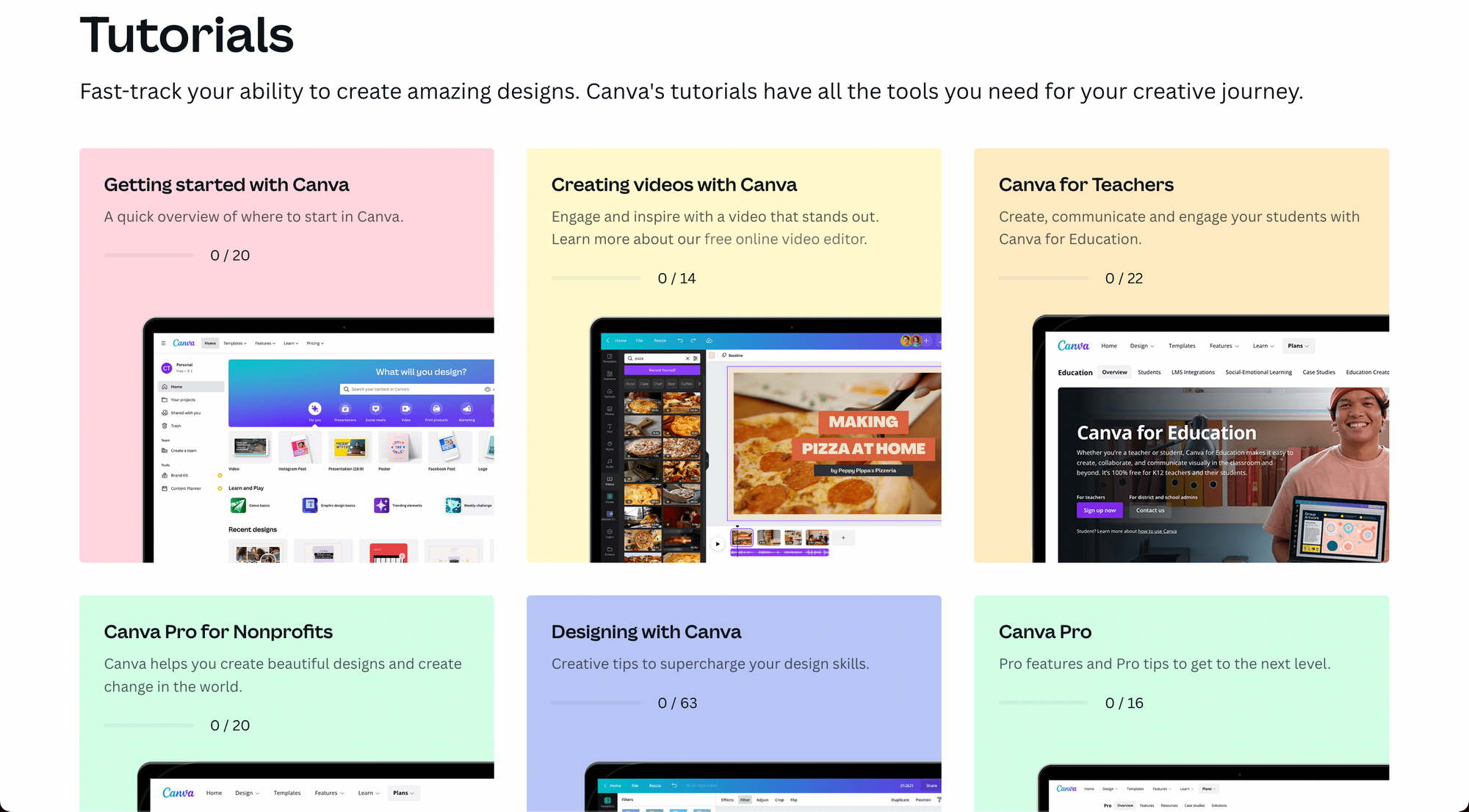 After watching these videos, the viewer should feel comfortable, get all their questions answered and gain confidence in Canva's ability to meet their needs.
Product videos, customer testimonials are some great ways to get better conversions. It's an opportunity to win people over with relatable touchpoints and give them the extra mile out of the test drive.
The objective is to offer the user a frictionless try-before-you-buy experience, pushing the paywalls post value creation.

How to help customers in their evaluation phase?
1. Offer Free trials and have strategic capping
2. Help users reach the "Aha" moment of your product as quickly as possible
Build awareness and knowledge content through videos, walkthroughs
3. Personalise customer experience
Use tooltips, in-app nudges
Run targeted email campaigns
4. Adoption
Acquiring a large pool of freemium customers might be an accomplishment in itself, but the real kick is in converting them into paying customers. Something going away for free can never bring you revenue and we are talking business here. So it all boils down to upselling.
Youtube! We all love it. But what we don't love are the ads that pop up in the middle of our favorite video. All our lives we've watched unlimited free videos and we'd never ever abandon YouTube to avoid those pesky advertisements. I'd rather pay a couple of dollars and forget ads!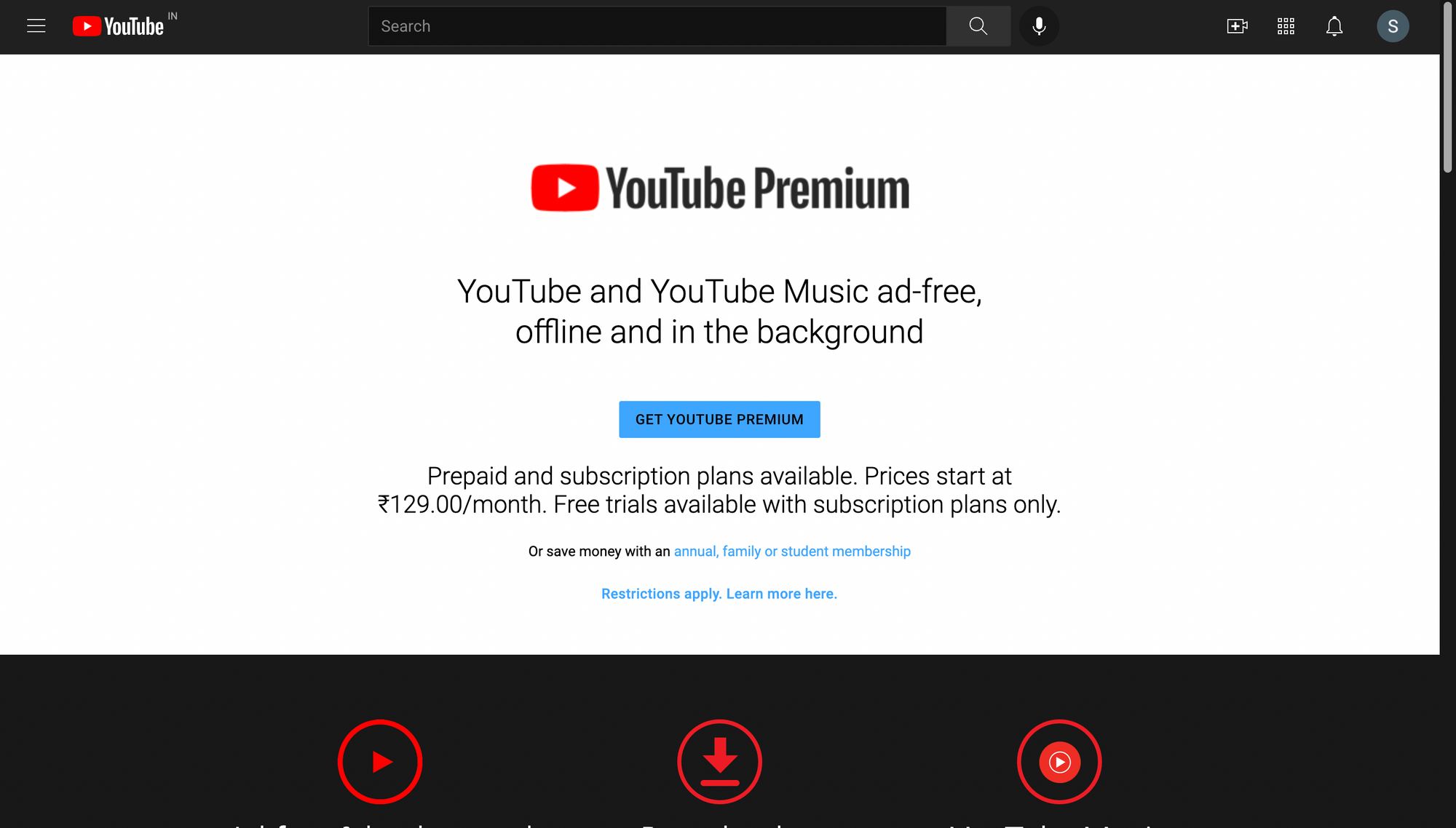 The objective is to refrain from having hard paywalls and hinting users more value for just a small price. This action is also an indicator that your customers adore your product and are willing to pay by choice.

How to promote adoption?

1. Never stop
2. Create a self-serve model to empower users
Create knowledge base
Leverage videos to onboard and educate
Incorporate in-app help widgets
3. Create user academy for comprehensive training and skill-building
5. Post Adoption
Surprise! Recall the air conditioner sale that you made?
Winning over your customers doesn't stop after…. Ever! In the post-adoption phase, your customers might be losing interest in your product, not using it as frequently as they once used to.
Reengagement is the magic wand that keeps your journey with your customers going. Go beyond tips and tricks emails, and blogs and experiment with newer mediums like videos, webinars, or even demos.
Now all of the million words above are as generic as they can get. And so is the product adoption strategy hack that you Google. To change and impact your product adoption, you have to track it. All your teams may huddle around the meeting room table to apply the 4 or 6 steps to the adoption process.
But only your customer's usage data will give you some real insights, red flags, and reasons for abandonment.
The objective is to reconnect with your customers while there is time before they lose interest in your product and churn out into the black hole. This is paramount to help you understand why your customers are inactive and to improve retention rates by sealing all the leakage.

How to re-engage?
1. Develop a holistic retention strategy
Realign your marketing, sales, and customer success efforts to retarget
2. Make use of in-app elements like tooltips to consistently help customers
3. Get customer feedback, even from churned customers
4. Promote new features with announcements, email campaigns, videos, newsletters
5. Step up your support game, by adding proactive messaging systems to your app
6. Never go cold - Send off your churning customers with a door to re-enter anytime
Wrapping up
Collecting data to find where users convert and dropoff will give your team the right direction to fix points of friction, understand users better, and make their journey towards action faster, improving their overall experience. Implementing measures to understand the adoption process better will lead to better retention and growth of your business.