Finally, a Clipchamp alternative
that unlocks Efficiency & Productivity in creating Instructional Videos
Meet Zing by Trainn – your smartscreen recorder and video editor for creating professional product videos at scale.
Try now →
14-day free trial — no credit card required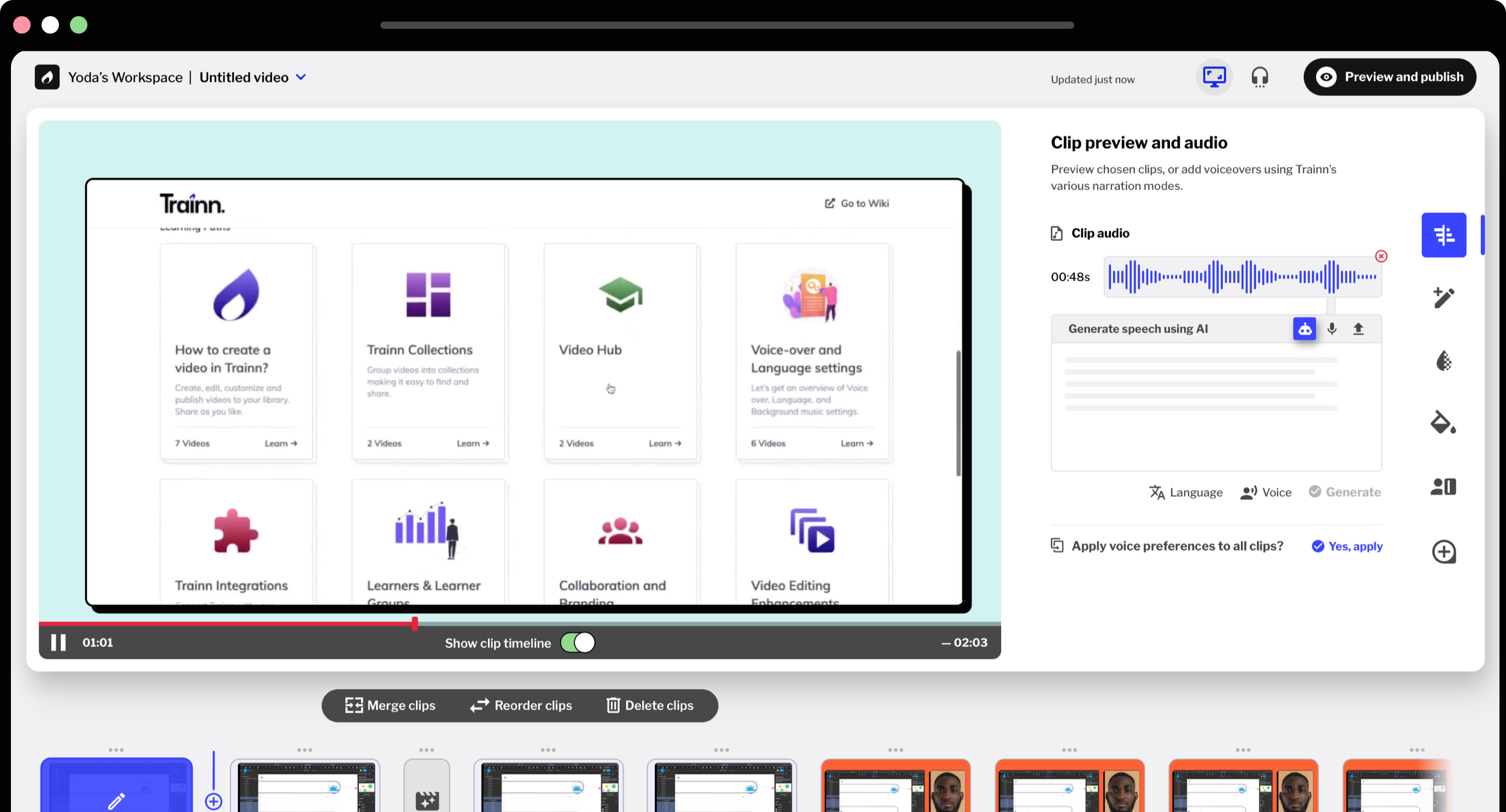 8
REASONS
WHY
Trainn is the best Clipchamp alternative.
Designed for instructional videos
Smart screen recording
Edit with ease
AI voice overs
Video analytics
Keep videos evergreen
Track user engagement
Build an academy
Designed for customer-facing instructional videos
Clipchamp meets the requirements for basic video creation. While its features make it a go-to for creating videos for TikTok or Instagram, it may not be the ideal choice for a customer-facing product.
Trainn is purpose built to create instructional videos of your digital product in minutes. It enables you to create product walkthroughs, training tutorials, and how-to videos to train customers at scale.
Smart Screen Recording for a smarter you!
ClipChamp will help you record your screen and your face. Nothing more, nothing less!
Elevate your video endeavours effortlessly using Trainn's smart screen recorder. Trainn automatically captures and transforms your screen interactions into visually stunning video clips, making it easier for you to edit.
| | | |
| --- | --- | --- |
| Features | | |
| Smart screen recorder | | |
| Screen + webcam recording | | |
| Video presentations | | |
| Drag & drop and edit your own files | | |
Experience unparalleled ease in editing your videos like never before
Clipchamp's editing process can be frustrating due to the presence of one single track of video recording, resulting in the challenging task of locating, editing, and trimming specific clips within the video.
Trainn solves this beautifully. With Trainn, each click and interaction is stored as a separate clip, associated with a unique number. This functionality makes it incredibly easy to scroll back to a particular clip and perform edits with precision and efficiency.

Clipchamp "Single Track" Video Editor

Trainn "Clip-by-clip" Video Editor
| | | |
| --- | --- | --- |
| Features | | |
| Sleek video editor | | (No Clip by Clip video track) |
| Trim, split, and crop | | |
| Automatic zoom and spotlights | | |
| Blur | | (Blurs entire screen - No selective Blurring) |
| Custom layouts | | (Built for social media) |
| Backgrounds | | (Basic colour options) |
| Intro & outro images | | |
| Annotations (objects, text) | | |
| Video chaptering | | |
| CTA button | | |
| Brand customization | | (limited) |
Easily arm your videos with AI voice overs and rich audio
Clipchamp's text-to-speech feature is effective in creating AI voice-overs, but the challenge arises while incorporating the audio track onto your screen recording. It becomes a daunting task to align the audio file with the video recording track , lacking clear indications of synchronisation.
Trainn is the only Clipchamp alternative that eliminates this problem entirely! With Trainn, you can add your voice-overs with Trainn's text-to-speech converter clip by clip , allowing you to modify or change the voice-over script for a particular clip without affecting the rest of the video.
| | | |
| --- | --- | --- |
| Features | | |
| In-built AI text-to-speech converter | | |
| Multi-language voiceovers | | (English in Multilingual accents) |
| Accents and tones | | |
| Record your own voice | | |
| Add / upload background music | | |
| Automated & editable subtitles | | |
| Clone videos in multiple languages instantly | | |
Measure the impact of your videos
With Clipchamp, you can't track viewership of your videos. This limitation makes it less suitable for creating product videos, wouldn't you agree?
Well, Trainn enables you to not just create stunning videos, but also track your video engagement . Get your video analytics with a click!
| | | |
| --- | --- | --- |
| Features | | |
| Video analytics | | |
| Learner-level analytics | | |
Keep your videos evergreen
For SaaS businesses, updating Clipchamp videos with each feature release can be a challenge. Isn't it frustrating to scroll through an entire video to find the specific part where you mentioned the feature and then re-record it?
With Trainn, making updates to your videos is a breeze! Our Clip-by-clip video generation enables you to effortlessly locate and re-record specific sections of your videos, anytime, anywhere making it a superior Clipchamp alternative for keeping videos evergreen.
Go beyond sharing. Track "Specific User Engagement"!
You can share videos through Clipchamp, but you cannot track a specific user's engagement with your video!
Trainn offers you tracking link. You can generate and send custom links to specific users & attribute engagement.
| | | |
| --- | --- | --- |
| Features | | |
| Host securely | | |
| Share links / embed codes | | |
| Branded portals | | |
| Video collection | | |
| Upload & edit videos | | |
| Priority support | | (Microsoft ticket support) |
Build an entire academy with your videos! Say What???
If you're a SaaS company seeking to create not only visually stunning product videos but also establish a comprehensive video collection and build an exclusive customer training academy around them, all you need is a single solution called Trainn! Talk about a sassy solution. Pun Intended!
Want to stick with Clipchamp and do the same? You can but you need more than just Clipchamp. Why burden your budget with more softwares?.
Trainn truly stands out as the top Clipchamp alternative for creating and distributing customer-facing videos of your digital product.
Go from creation to distribution
Deploy a self-serve customer training portal using videos.
Launch your own customer training academy.
Clipchamp vs Trainn
So, which is right for me?
Clipchamp is a reliable option for editing your social media videos, offering a comprehensive range of features that will make you feel like counting your Instagram likes! However, it may not be the optimal choice for customer-facing teams seeking to create product walkthroughs and educational videos.
Trainn is the #1 Clipchamp alternative, purpose-built for SaaS companies looking to educate their customers with videos. Our smart screen recorder, integrated text-to-speech converter, automated zooms and spotlights, streamlined video editor, and comprehensive video analytics, are tailor made to take your digital product to the next level!
Your search for a Clipchamp alternative ends here! Trainn has got you covered!
Try Trainn today!
Stop compromising on your product videos.
Get started →
14-day free trial — no credit card required