Every business has its own needs. Explore 7 different cloud based screen recording software and figure out what works for your business.
Web based screen recording software has skyrocketed in popularity, becoming a vital tool across diverse industries. It has completely transformed how we capture, share, and collaborate on visual content. Web based screen recording software has become an essential companion in the digital realm for training sessions and product demos.
Cloud-based screen capture has emerged as the superhero of the recording world. It offers unparalleled advantages over traditional on-premises solutions.
We will explore the top 7 cloud-based screen recording software solutions that have gained recognition in the past year. We will explore their exceptional features, user-friendly interfaces, and their ability to enhance productivity.
These software options offer a range of functionalities to cater to diverse recording needs. So, let's dive in and discover the cloud-based screen recording software that can revolutionize how you share visual content.
But first,
What is cloud-based screen recording?
Cloud-based screen recording is a revolutionary technology. It gives the users an ability to record, capture and store video recordings in an online cloud storage system. It eliminates the need for local storage and provides seamless accessibility from any device with an internet connection.
Online cloud screen recorder empower individuals and businesses to enhance productivity, streamline workflows, and communicate more effectively in today's digital landscape.
Top 7 cloud-based screen recording software
With its capes of accessibility, collaboration, and storage, cloud-based recording has revolutionized productivity like never before. There are multiple paid and free web based screen recording apps to capture your audio and video files.
1. Zing by Trainn
Zing by Trainn is a game-changing software designed to help you think beyond screen recording tasks.
With its intuitive interface and an impressive array of features, Zing offers a seamless recording experience for professionals and individuals alike. You can record any workflow and use Trainn's intuitive editing to edit videos like a professional.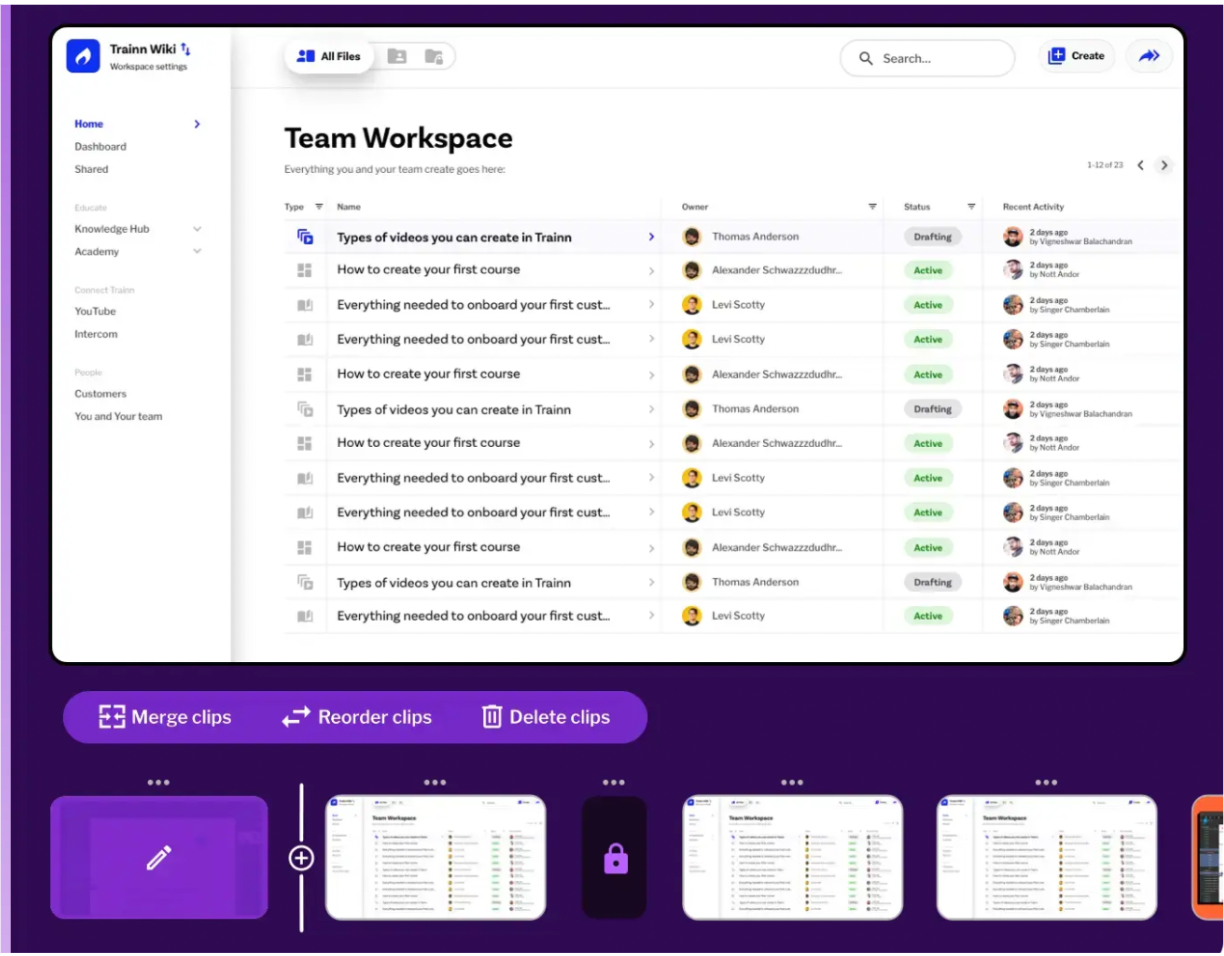 You can record your tab, window or the entire screen. Trainn automatically captures the interactions performed on the screen and converts it into clips for easy editing. Based on the actions performed it automatically adds spotlights and zooms to your video. Thus making your screen recordings powerful.
All you have to do is just simply type in the text and let the AI voiceover do the magic for you. You can add rich AI voiceovers in multiple languages, making it easy for your global customer education strategy. You can easily organize these videos into folders, and the best part is these videos can be shared easily with your customers via links and can be easily embedded within your application without any developer favors.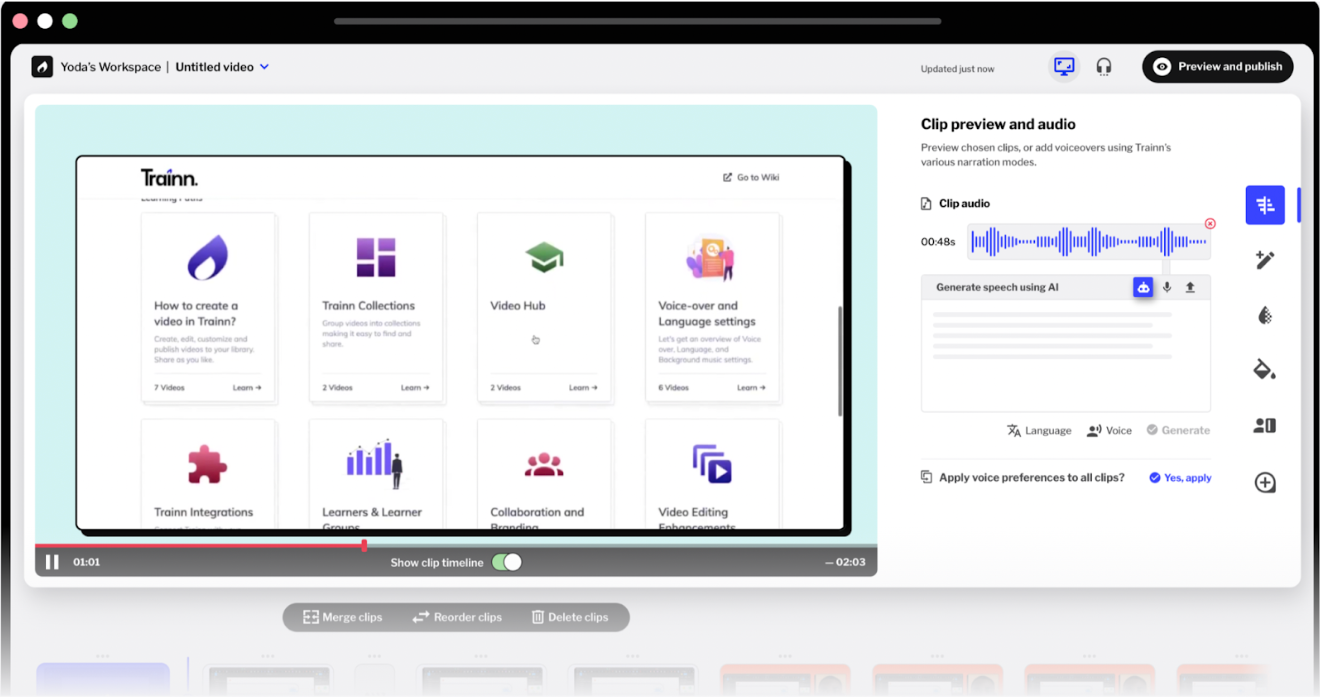 Some of the standout features of Trainn is its ability to prep your content for distribution. Often times customer education collateral ends up in our archive folders than selling our product to our customers.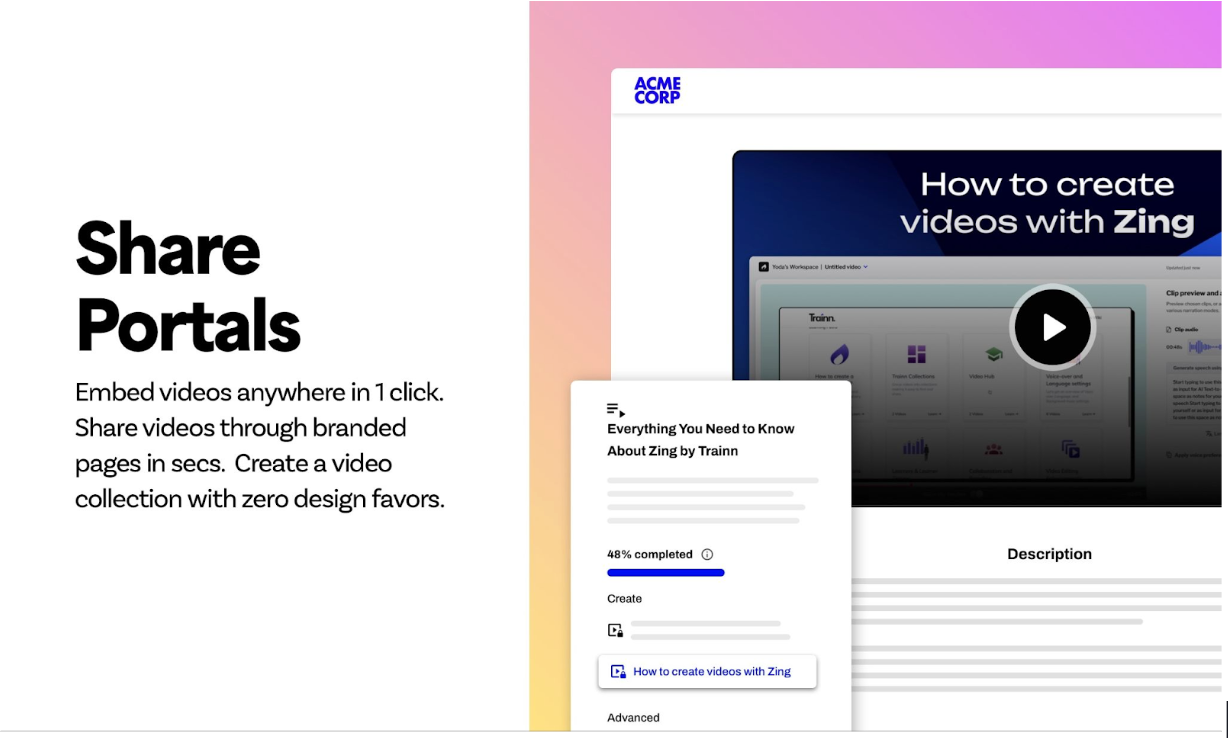 Trainn Portals help you deploy a dynamic video portal that helps with self-serve customer training. It uses SSO authentication for a unified customer experience. The best part is you can use your brand colors, fonts, and logos easily.
Another thing that Trainn offers is its Academy.
With Trainn Academy, you can enhance your inbuilt content authoring with a dynamic course builder. You can also deploy in-built engagement through quizzes and certifications.
Trainn's advanced analytics helps break down every aspect of your video to understand what works and what doesn't. This way you can optimize your customer education videos effectively
Check out Trainn now to know more.
2. Apower Screen Recorder
When it comes to reliable and feature-packed screen recording software, Apowersoft Screen Recorder stands out as a powerful contender. With its impressive range of key features and benefits, this software caters to the needs of professionals and individuals alike.
One notable advantage of Apowersoft Screen Recorder is its integration with cloud storage. Users can conveniently save their recordings to the cloud. This ensures secure storage and easy access from anywhere without worrying about local storage limitations.
The software also offers scheduled recording. This enables users to start and stop recording at specified times automatically. This makes it ideal for capturing live streams, webinars, or time-bound content.
Apowersoft Screen Recorder understands the importance of analytics and reporting, providing users with insightful data on their recordings. Users can analyze viewing trends, engagement levels, and other metrics to gain valuable insights and improve content creation strategies. This feature helps professionals optimize their recordings for maximum impact and reach.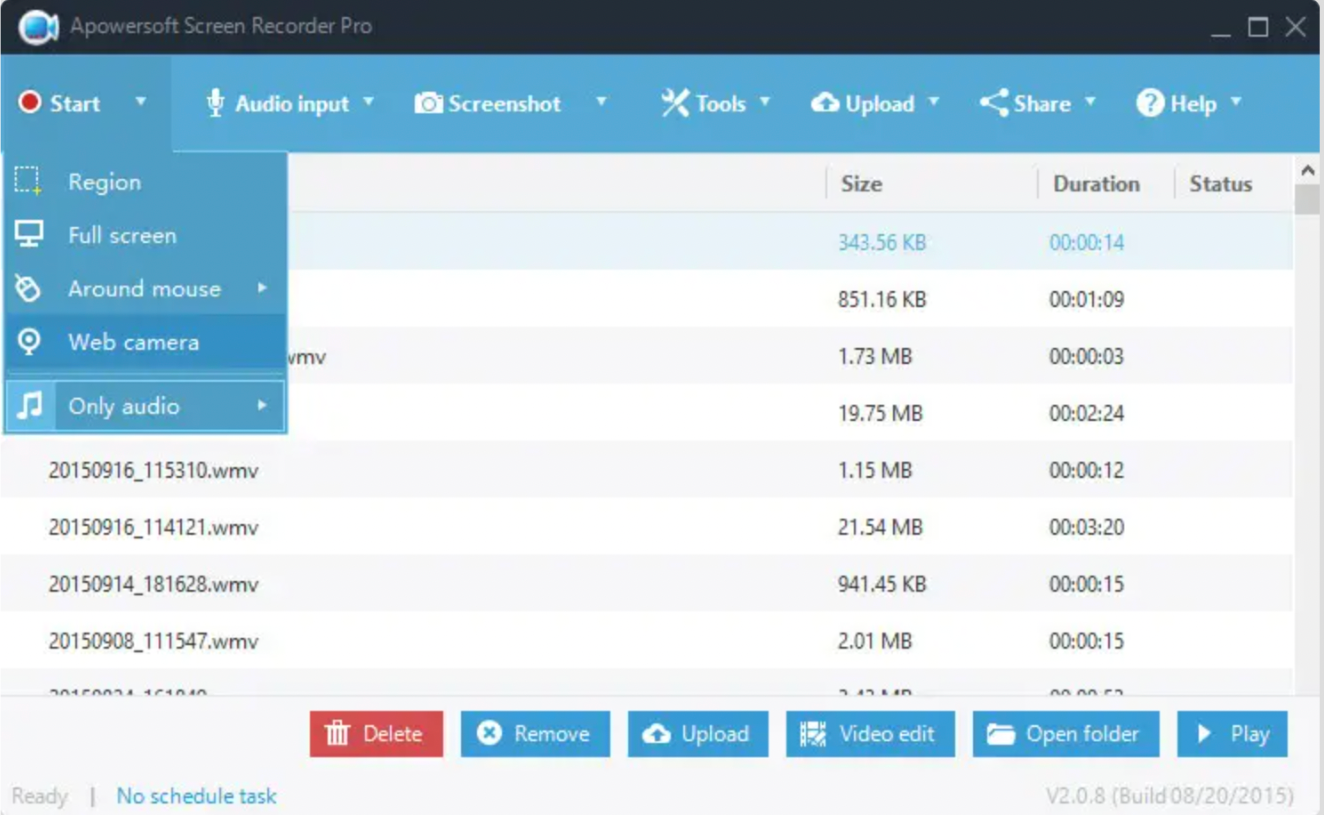 Looking towards the future, Apowersoft Screen Recorder has promised exciting developments in its software. By continually enhancing its features and functionality, the software aims to stay at the forefront of screen recording technology.
Users can anticipate improvements in usability, performance, and additional features that will further enhance their recording experience.
Apower is for everyone from professional presentations, educational content, or creative projects. It offers the necessary tools and versatility to elevate the screen recording experience.
3. Soapbox by Wistia
Soapbox offers a seamless recording experience for individuals and businesses alike. It has easy screen and webcam recording capabilities. Users can effortlessly capture their screen activities and add a personal touch with webcam footage.
The software also provides robust video editing tools, enabling users to trim, crop, add captions, and customize their recordings to perfection.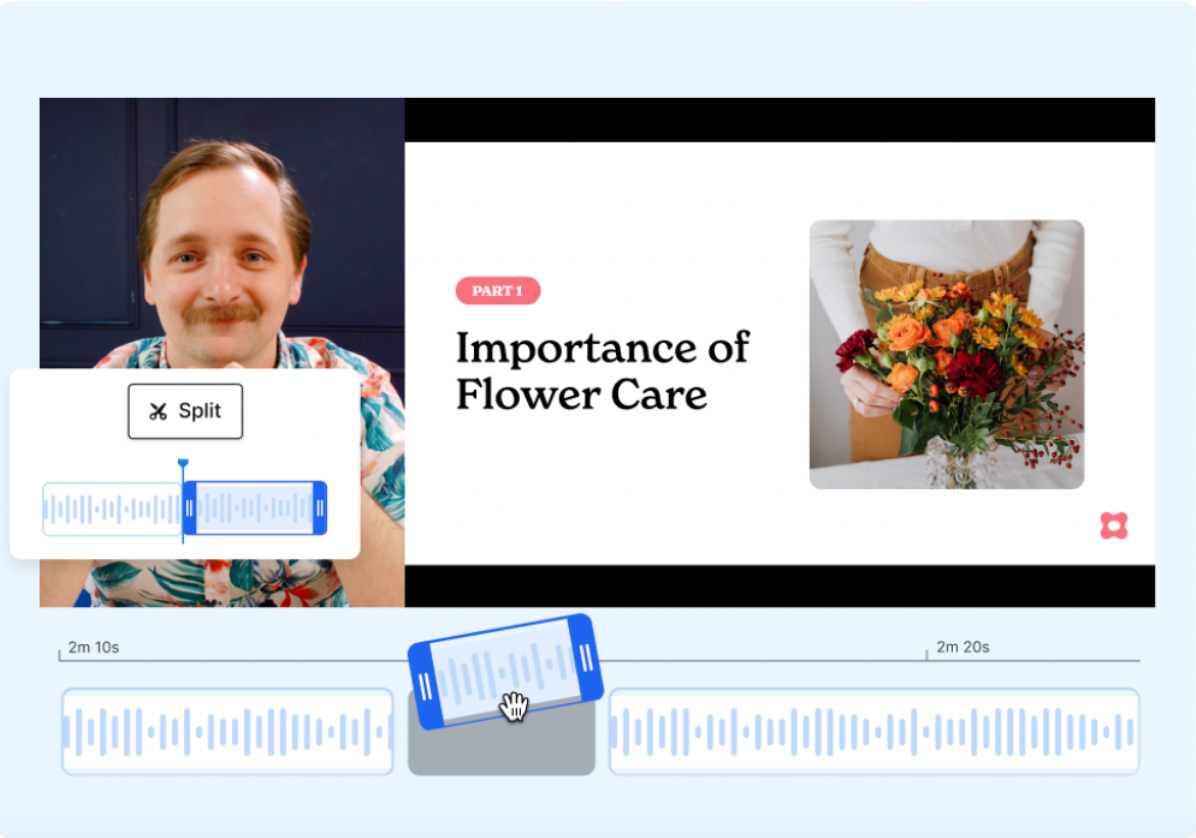 Soapbox offers video analytics and reporting, providing valuable insights into viewer engagement, drop-off rates, and other metrics. This data empowers users to refine their content strategy and optimize their videos for maximum impact.
Looking towards the future, Soapbox has promised exciting developments to enhance the software further. By listening to user feedback and staying at the forefront of industry trends, Soapbox aims to improve its features continually.
Users can anticipate future updates and enhancements that will elevate their video creation experience.
4. Movavi Screen Recorder
Movavi Screen Recorder is a versatile software that empowers users to capture and edit screen recordings with exceptional ease effortlessly.
With its impressive range of key features and benefits, Movavi Screen Recorder is a reliable tool for professionals and individuals seeking to create high-quality videos.
The software allows users to record both their screen and audio, ensuring a comprehensive capture of their content. It also offers advanced video editing capabilities. This includes enabling users to trim, crop, add annotations, and apply visual effects to their recordings. This helps the videos to be more polished and engaging.
One notable feature of Movavi Screen Recorder is its scheduled recording functionality, which allows users to set specific times for automatic recording. This feature is handy for capturing live streams, webinars, or any time-bound content, ensuring no important moments are missed. Additionally, the software provides hotkey control, giving users quick access to start, pause, or stop recordings with a simple key combination.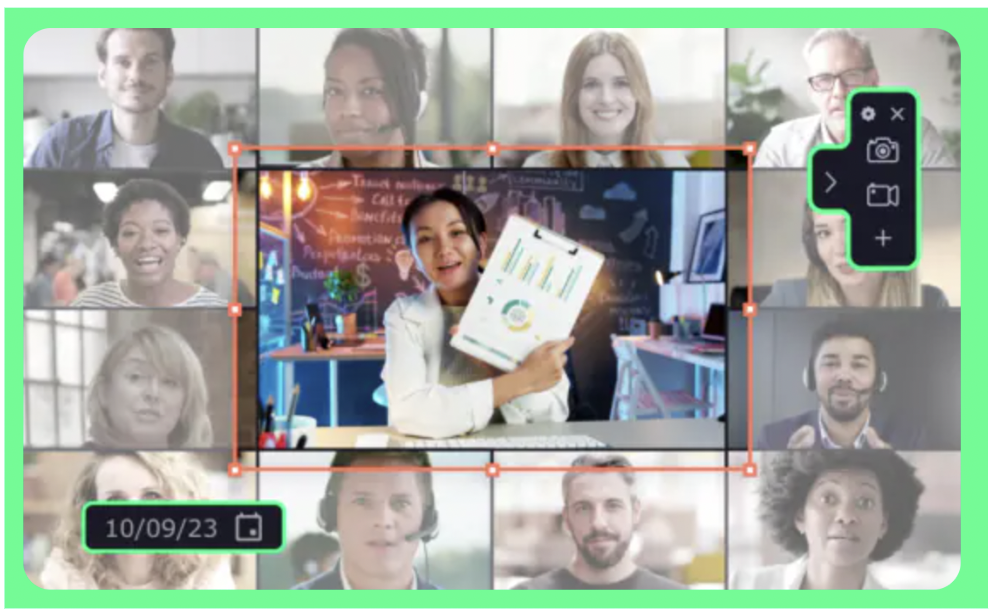 Movavi has a reputation for delivering reliable and high-quality screen recording capabilities.
5. Bandicam
Bandicam is a popular screen recording software that offers a wide range of features and benefits. It  accommodates gamers and is quite popular among the gaming community.
But its intuitive interface and powerful capabilities, Bandicam has also become a reliable choice for professionals and gamers alike.
The software enables users to record their screen, audio, and webcam simultaneously, providing comprehensive and synchronized recordings.
Users can also choose from various recording modes, such as full screen, custom area, or specific application window, to capture exactly what they need.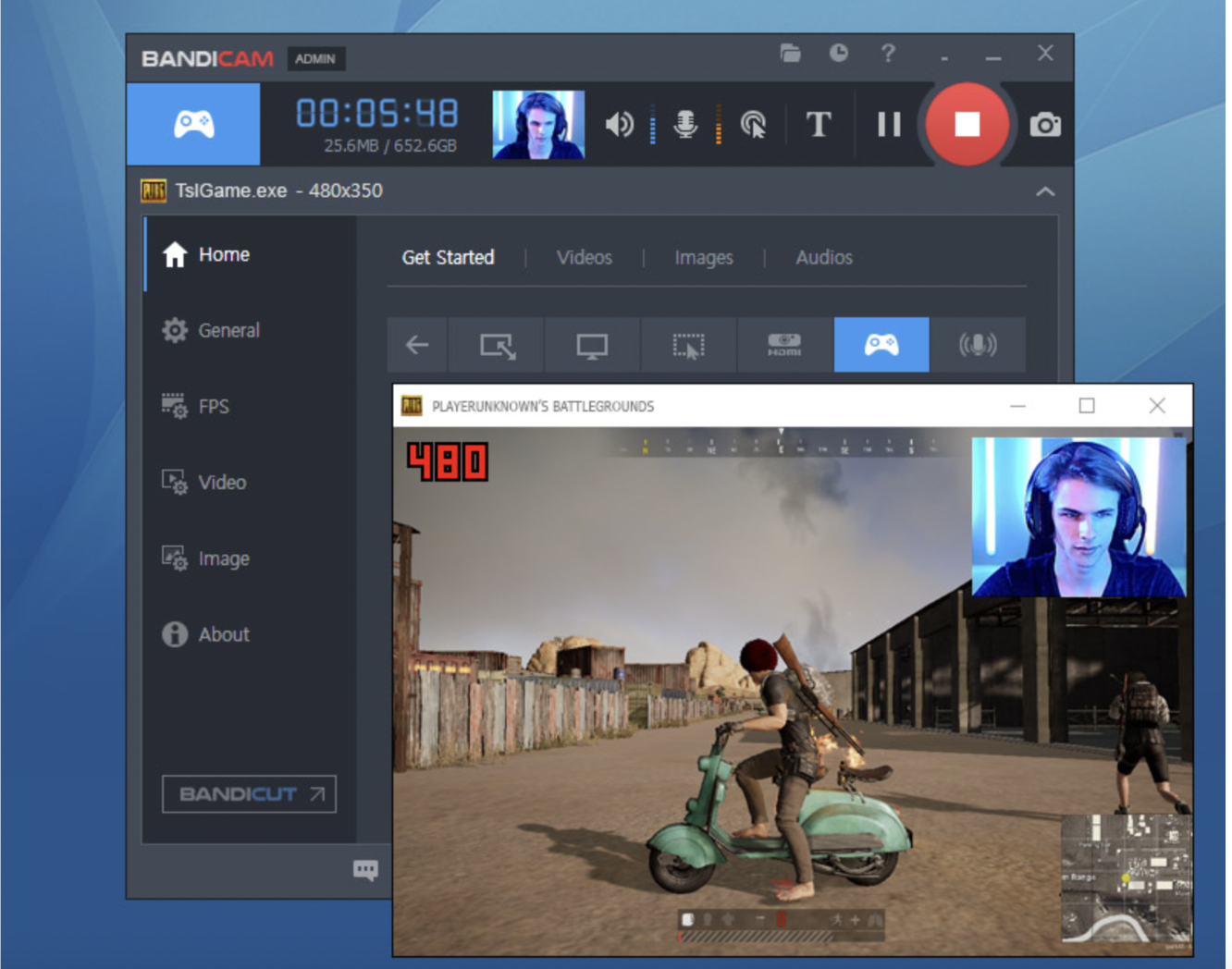 Bandicam not only excels in recording but also offers advanced video compression technology. This helps create high-quality videos with smaller file sizes. This feature is precious for those who need to share or upload their recordings online without compromising video quality.
While specific information on analytics and reporting may not be available for Bandicam, the software promises continuous improvements and future developments. Bandicam has a track record of staying up-to-date with technological advancements and user needs, ensuring a seamless recording experience.
6. iSpring Free Cam
iSpring Free Cam is an excellent choice for professionals and educators looking to create engaging video content. One of the key is its user-friendly interface and robust functionality.
The software allows users to record their screen, audio, and webcam simultaneously, ensuring a complete and immersive recording experience. It also offers advanced editing features, enabling users to trim, crop, add annotations, and apply visual effects to their recordings, resulting in polished and professional videos.
One of the notable benefits of iSpring Free Cam is its intuitive and easy-to-use interface, making it accessible to users of all skill levels. The software allows for quick and hassle-free recording without the need for extensive technical knowledge.
Users can effortlessly start and stop recordings, choose recording areas, and customize audio settings to achieve the desired results. It also makes it easier to share videos on social media platforms.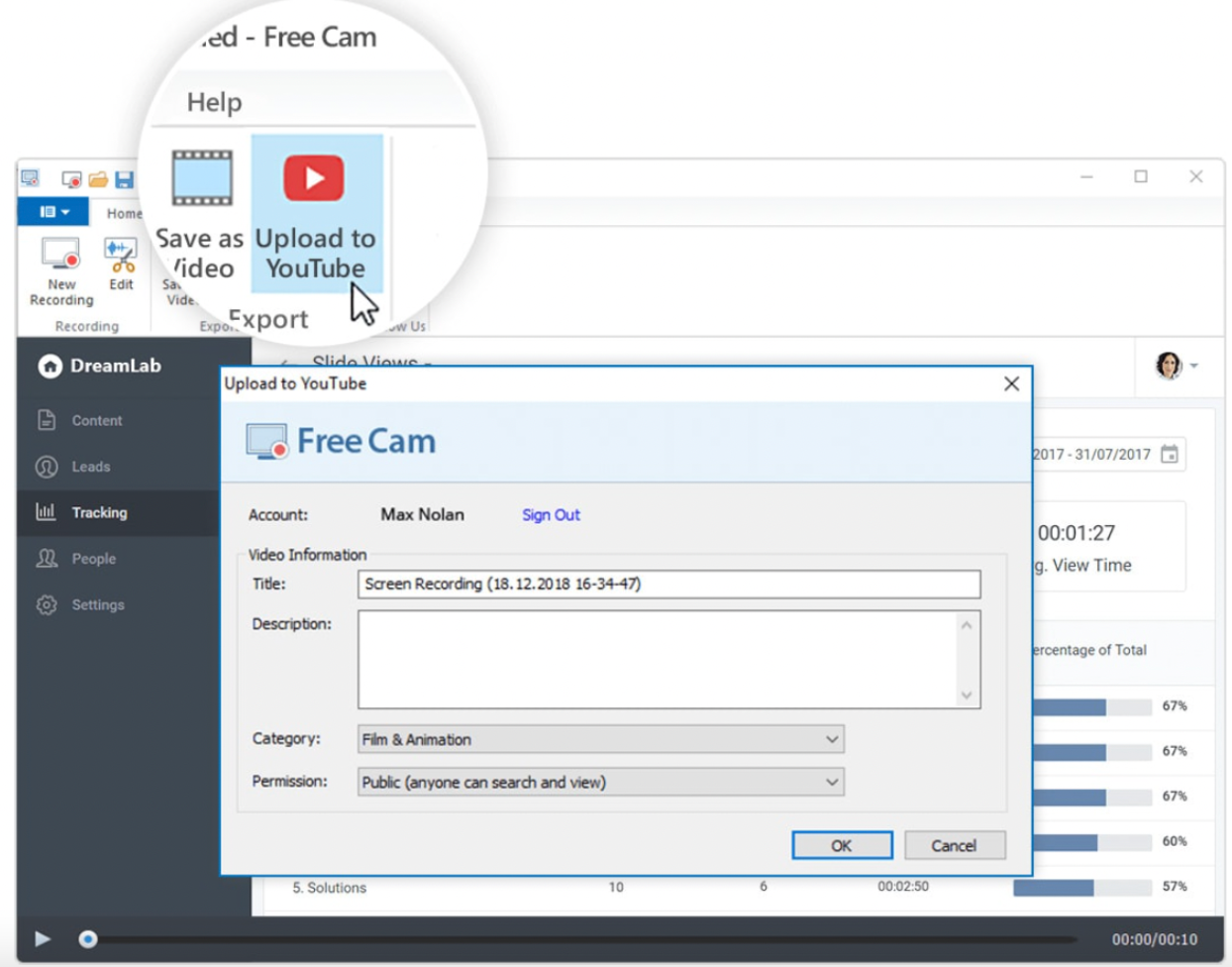 iSpring Free Cat provides a solid foundation for screen recording and video creation.
As for future developments, iSpring Solutions, the company behind iSpring Free Cam, is dedicated to continually improving its software.
7. ScreenPal (Formerly Screencast-O-Matic)
ScreenPal is a reliable choice for professionals, educators, and content creators. The software allows users to record their screen, webcam, or both simultaneously, providing flexibility in creating personalized and engaging videos.
It is easy-to-use video editor, which enables users to trim, cut, merge, and add captions or annotations to their recordings. It also helps unleash your creativity with writing/sketching on top of the recordings.
This allows for seamless post-production editing and customization, resulting in professional-looking videos. Additionally, ScreenPal offers the option to record system audio or microphone input, giving users full control over their audio settings.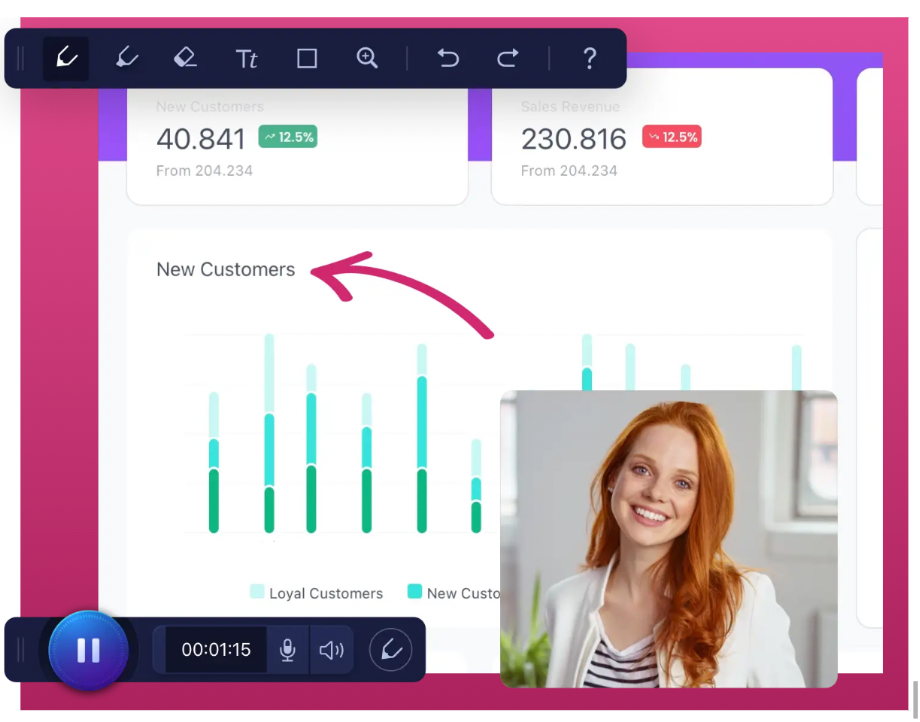 With ScreenPal, users can capture their screen activities with ease and create captivating videos that resonate with their audience.
Why is Screen Recording in Trainn is different?
While there are several excellent options available for web based screen recording software, Trainn emerges as the frontrunner in this competitive landscape. This is because of the following features,
1. Instant Recording
Trainn prides itself on its lightning-fast recording capabilities. With Trainn, users can start recording their screen instantly with just a single click. This eliminates any delays or disruptions in capturing important moments.
2. Unlimited Recording Time
Unlike many other screen recording software that impose limitations on recording duration, Trainn offers unlimited recording time. This feature ensures users have the freedom to capture lengthy sessions without worrying about running out of recording space.
3. No Watermarks
Trainn understands the importance of maintaining a professional image. Therefore, it does not include any watermarks on recorded videos. This provides users with clean and professional-looking recordings that can be used for various purposes.
4. HD Quality
Trainn is committed to delivering high-definition (HD) quality recordings. Users can capture their screen activities with utmost clarity and detail, ensuring their videos look professional and visually appealing.
5. Export Options
Trainn offers versatile export options, allowing users to save their recordings in various formats. Whether it's MP4, AVI, WMV, or other popular formats, Trainn ensures compatibility and flexibility in sharing and using the recorded content.
These specific features make Trainn stand apart from other web based screen recording software options, providing users with a seamless and professional recording experience.
Trainn's commitment to instant recording, unlimited recording time, watermark-free videos, HD quality, and versatile export options ensures that users can create top-notch recordings without any limitations or compromise in quality. Don't believe us? Try Trainn now.