How do you navigate through the islands of customer onboarding avoiding churn and reaching the raving fans on the other side?
If Jim Hawkins did not discover the map from Billy's sea chest in the book Treasure Island, the 1883 classic would have never been the way it is. Of course, the pirates would have had it easy, but real classics are not made with such ease.
Now, your product journey is not exactly one of 'buccaneers and buried gold,' however, it could get a bit tricky to make people realize the "X" mark on your product maps.
Hubspot says that two of the key reasons your customers churn are because,
They don't understand the product.
They do not see the value your product could add to them.

Imagine this,
You have a top-notch product, an aesthetically attractive, transparent website, and a marketing team that courts your customers on every platform they lay their eyes on.
One of your posts makes a potential customer smile. They decide to take a chance and sign up for the product. A squeal of excitement goes around the office floor as the conversion figure goes up.
Now here's the deal, if your customer doesn't figure out how to use the product or doesn't interact with it, all this goes to waste. The echoes of this lost customer will later come to haunt you in your sleep.
To cure insomnia and reduce churn, many companies hail the praises of customer onboarding in the customer lifecycle.
What to know about customer onboarding
Here is what the blog would cover. You can skip to any of these sessions but be prepared to miss pop-culture references in the gaps.
What are the different strategies used in customer onboarding
Using videos in customer onboarding
5 ways to use videos in onboarding
What is customer onboarding?
Customer onboarding is a strategy that spells out the customer journey from the initial sign-up to the first use of the product. It covers the entire nine yards, intending to provide value to the customer as soon as possible so that they adopt the product quickly.  
The intention with customer onboarding is to build the domino effect.

A good customer onboarding experience leads to a raving fan who can't stop talking about how nifty your product is. This leads to more customers by word-of-mouth, improving acquisition on one end, and building loyal customers, thereby, reducing churn.
What are the different strategies used in customer onboarding?
There is no right and wrong way to onboard customers, only the ways that help your customer understand your product better. For this, you should find the perfect onboarding strategy that fits your business.
It could be through targeted email sequences, in-app walkthroughs, product documents, or a call with a member of the team.
But there is another way most businesses are adopting to successfully onboard their customers.
Using videos in customer onboarding
In a chat with Wingman, a conversation intelligence software, we figured that sales reps wanted a solution to onboard more customers with a personalized approach. They wanted to show and tell, but also did not have the time to sit on a call with every single customer.
After understanding cloning technology might not fit into their legal and financial budgets, they decided to use videos to provide customized onboarding experiences for their customers.
In a study Hubspot conducted, 94% of marketers agreed that videos help people understand their product more effectively.

Vinay Prasad, a customer success manager from Wingman further unearthed an insight, saying,
"It is more powerful when you ask a customer to listen to a 1-minute product video rather than a 24 30 minutes video altogether or make him read a solution article."

Shorter videos highlighting particular features helped Wingman close more deals.
You can read more about how Wingman optimized support and customer success here.
5 ways to use videos in onboarding
To understand how to use videos in onboarding, you need to empathize with the customer's actions as they step into the realms of your product.
1. Video-walk through for the new user
In a self-serve SaaS product, with less interaction from your end, the user hops onto the platform and starts using it.
Providing a video-walk through after sign-up would help guide them in the right direction.
For example, people sign up to Trainn to create easy product videos. As soon as they create an account with Trainn, the homepage opens up to this,

Here, it shows how one can create and share a new product video in 4 easy steps. The 'tick marks' and 'x marks' show progress, rewarding you intrinsically for tasks you have completed.
Here is yet another video onboarding method that is useful for self-serve SaaS.
Video tool tips are short series of video demos of the product that are embedded within the product. Each feature has a demo beside it, making it easier for the customer to choose their learning path.
StoryChief, a content marketing solution, is fairly easy to use. Even though the customer path is self-explanatory they go an extra mile and provide an explainer video beside the features.
3. Using videos in onboarding mails
In an ideal world, everyone gives you a chance, tries your product, understands it at first go, and falls in love with it.
But our world, that was almost wiped out by a virus, is filled with complex products and busy people.
Sometimes your product is not easy to explain and is nowhere close to adopting a self-serve model.
Here is where welcome emails, tailor-made for your persona, come into play.
But every email marketer sitting in a window-less cabin knows the difficulties of transpiring their creative email writing to bottom-line conversions. In a research conducted by Hubspot, it was found that including videos in emails can increase the click rate by 300%!
For example, Notion, a project management software, has multiple tools and features that can help anyone customize their workspace for their needs. To help people make the most of their product, Notion has a welcome sequence that breaks down different features of theirs and uses videos to show how easy it is to use that feature.

Even if your customer tends to skim through emails, 30-second personalized videos on emails are bound to catch their attention.
4. Using videos in support documents
At this point, you already know video is the name of the game. Gone are the days when we got out our monocles and sorted through documents burning the midnight oil.
Today, we want even our support/ FAQ documents to be easily digestible videos. The FAQ section is indeed one of the best places to add videos, as FAQs would generally cover targeted questions that have a trend of being repeated by customers.
Fiverr, a freelance service marketplace, embeds videos in their FAQs, giving an additional hand to their support teams,  as well as, sprucing up their support articles.
5. Have videos in the chatbot
Wouldn't it be nice to have a third generation fusion pod photonic with verbal and visual capabilities connected to every database on the planet?

Yeah, Vox 114 from the Time Machine was all the rage back in the day but in today's world, even with the lack of a holographic librarian or a library for that matter, we can definitely look forward to personalized assistance online.
After multiple Google searches asking how chatbots can be more friendly, we are today at the brink of using videos in chat bots to directly engage with users.
For example, CopyHackers delivers its value right off the bat, with a person welcoming you through a bot onto the website.
Imagine explaining your product the way you designed it to your end user. Not only does it break all the barriers between you and the end-user but also gets their attention with the touch of personalization.
With Trainn you can plugin your video repository to your chatbots, ready to launch at a customer query.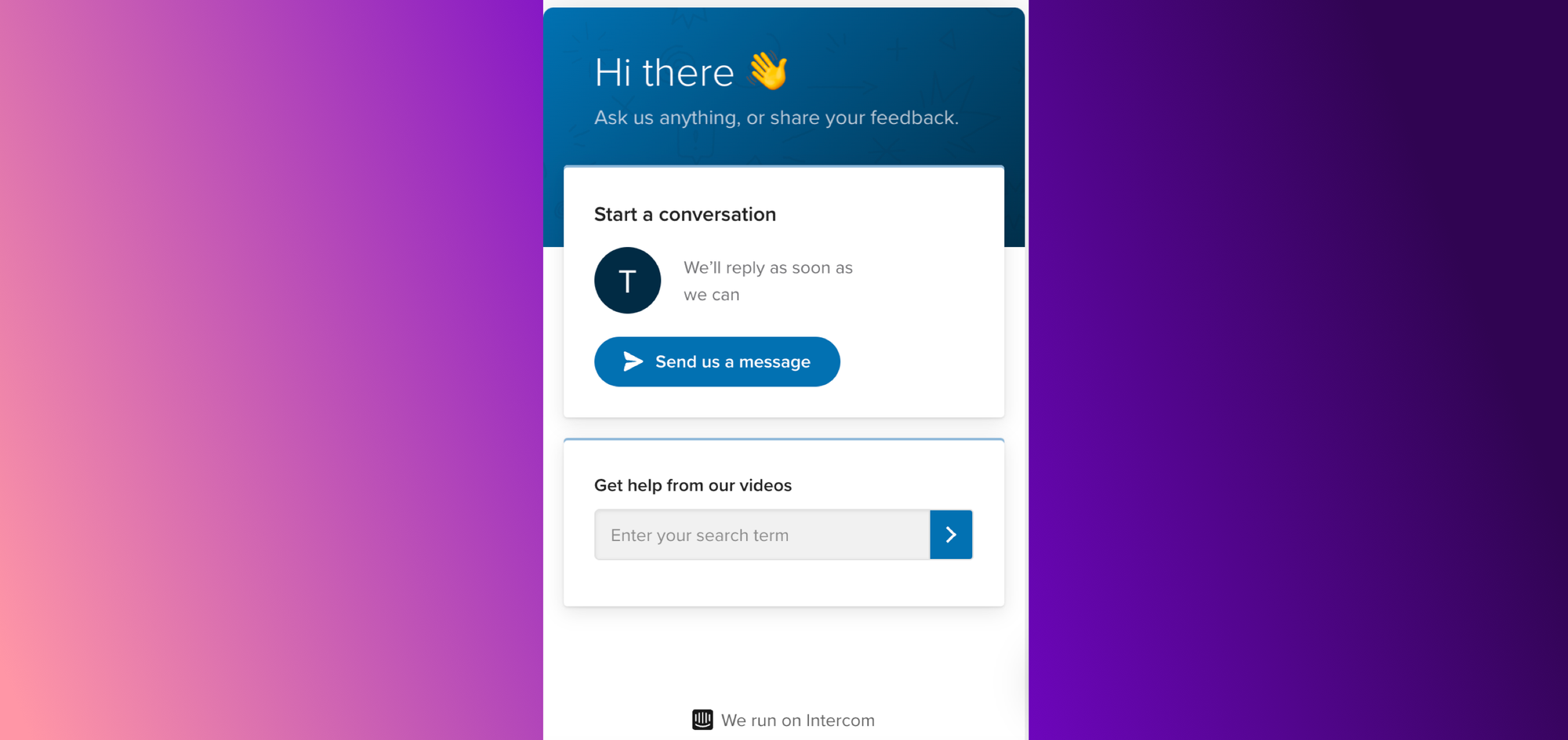 A recent report by Userpilot says,
74% of potential customers will switch to other solutions if the onboarding process is complicated

A decade ago whatever could be done manually, is now taken over by a software with more in-depth insights. Customers have come to expect more and even if your software solves world hunger, until people understand it, it is as good as non-existent.
Customer onboarding has become more vital today than ever. Out of all the methods you can try out, videos have always proven to be more effective in convincing customers of the value of the product or service.
You don't have to believe us. Create your first product video, send it to your users and let them tell you.