Customer onboarding is where the journey of your relationship with them begins. Make your bond stronger by avoiding these common onboarding mistakes.
Adding a new habit into your life takes 21 days, but adding a new SaaS product to the workforce takes more than that. When a person decides to start a new habit, be it working out or jogging, the first few days are consistent.
As days pass, they start making excuses that eventually lead them to quit.
BJ Fogg's behavior Model explains the cause of this behavior.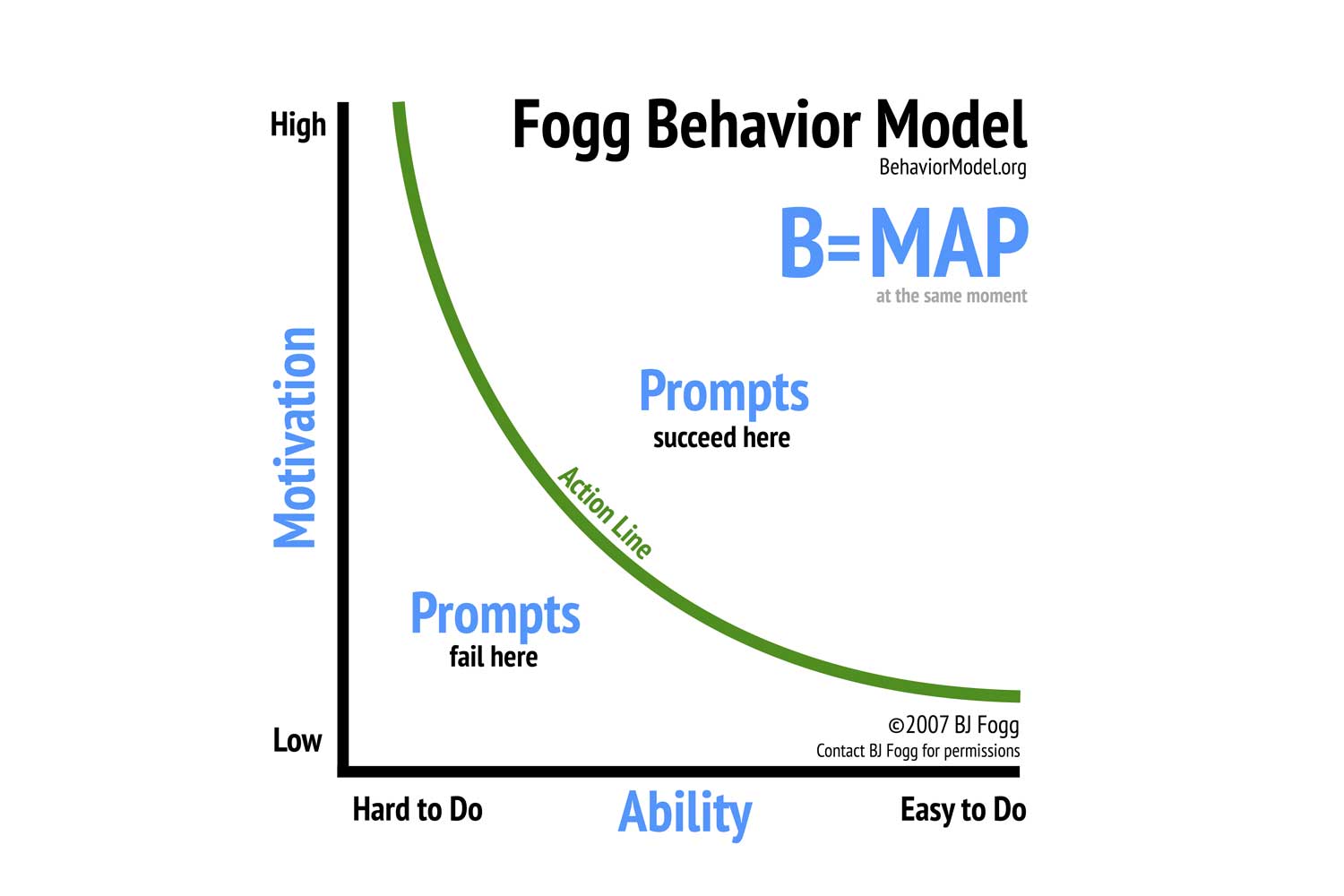 According to this behavior model, while starting a hobby, people have high motivation and can complete even tricky tasks. But as time passes, the ability to do an activity becomes easy, and the motivation to do it drops. Hence they find excuses to quit.
The same happens in the customer onboarding process of SaaS tools. Only a good onboarding program, followed by continuous customer education, can motivate people to stay on the tool, make repeat purchases and reduce customer churn.
What is a Good Onboarding Experience?
Before we begin with the mistakes in customer onboarding, let's look at what a good onboarding program of any product or service consists of.
Wyzowl's report on customer onboarding says,
"Nearly two-thirds (63%) of customers say that onboarding – the level of support they're likely to receive post sale – is an important consideration in whether they make the (purchasing) decision in the first place."
Make your users feel special by showing them your willingness to train and answer their questions instantly. This motivates customers to add your product to their workforce, turning prospective customers into loyal customers.
Good onboarding is crucial for users to decide whether to continue using your product or abandon it. An onboarding program is defined as good when it brings out the product's benefits in correlation to the users' expectations. It is also a great customer retention strategy.
Even though this makes it sound easy, finding a perfect user onboarding strategy can be complex in SaaS, but it is a rewarding process that makes your product successful and reduces customer churn in the long term.
If you want your SaaS product to thrive, consider avoiding these three major customer onboarding mistakes.
3 Customer Onboarding Mistakes to Avoid
According to Retently, 23% of average churn is due to poor customer onboarding.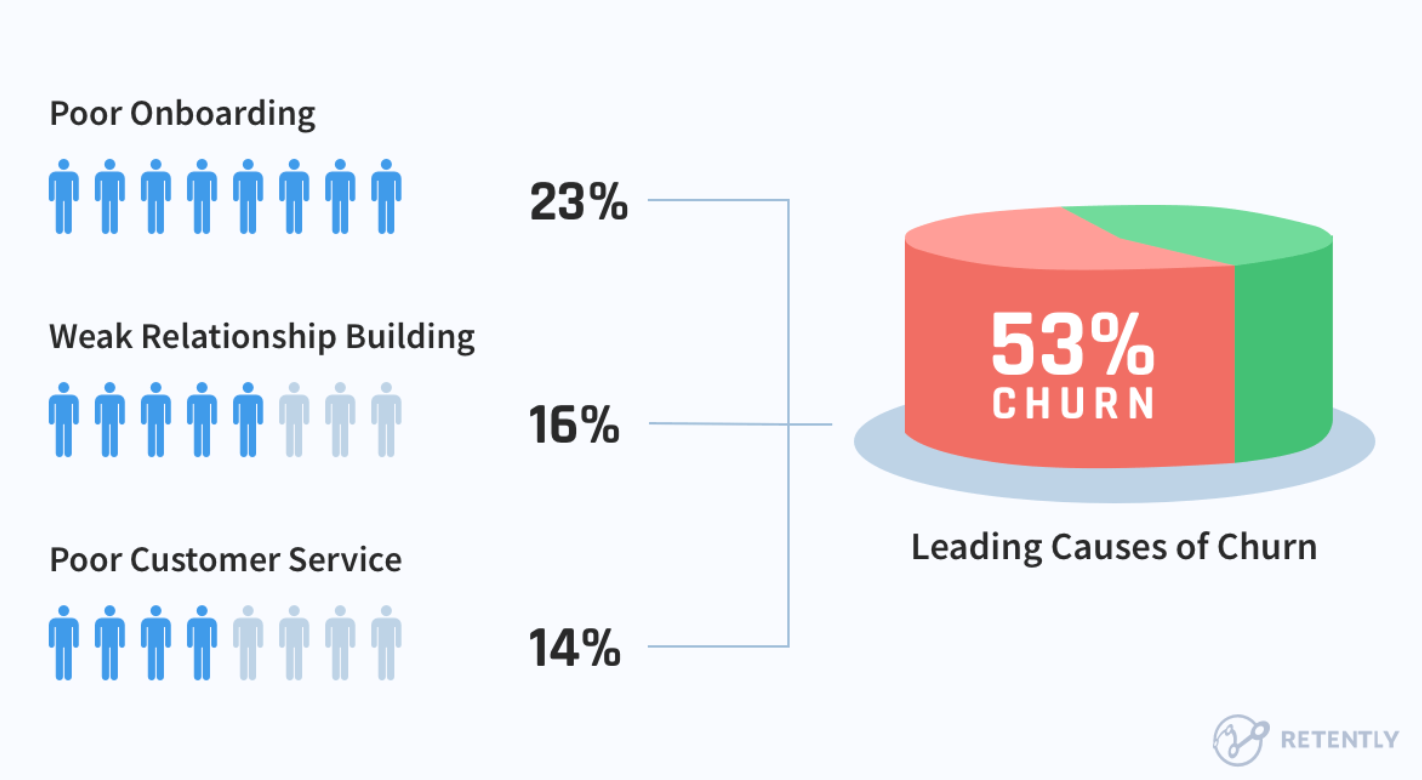 The key to customer satisfaction and retention is to provide them with an excellent experience at every touchpoint against churn. As onboarding is the first stage where users engage with your product, you should reassure them that they made the right choice from the beginning of their product journey.
Here are three onboarding mistakes to avoid.
1. A Difficult Sign-up Process
Imagine you are hungry, and before placing your order, you are asked to fill out a twenty-step questionnaire on everything from where you get your dog food. Frustrating? Definitely? Will you come back again? Never.
The same applies when customers faces friction anywhere in the signup process.
This friction occurs when companies ask for lots of information during the signup process, which might hinder the customer experience with the product.
How do we make the customer onboarding process frictionless?
Start at the very first step that comes up during customer acquisition, aka the user registration.
According to Userpilot's State of SaaS Onboarding 2022 research, a frictionless registration process requires only requesting the user's name and email address without demanding an email confirmation. This should take your users into your app as fast as possible.
Okta, a cross-platform that links apps, logins, and devices into a single network, has made their sign-up process precisely as described by Userpiolet.
But an uncomplicated signup process may only work for some SaaS products. You sometimes need to collect more information, especially when your product requires you to understand your customer profile in depth to design your customer education journey.
But that doesn't mean adding friction.
Duolingo, a language learning platform, requires detailed user information to customize the learning platform. However, they have found an interactive way to simplify this process.
They divide their questions across various personalized screens. A progress bar at the top indicates the number of steps left, motivating people to move towards the finish line.
2. Not Accommodating Different Customer Personas
When it comes to onboarding customers, a better understanding of their behavior will help you devise an effective onboarding strategy. For example, expecting everyone to get help from product tours alone will be ineffective, as some users might feel overwhelmed.
You need to plan for an omni-content onboarding experience where the option is left to the customer to choose the learning path that is right for them.
Directing the Right Customers to the Right Features
Various customer teams may seek different outcomes with your product. That explains why your customer need a personalized customer experience in their onboarding process to adopt your product.
Begin by understanding your existing customers and their corresponding personas; this can help personalize the product journey. Notion simplifies this step by letting the users self-identify.
But this doesn't mean suffocating the customers within four walls of their predefined persona.
Guru Prasanna, who leads Trainn's GTM efforts, says,
"When it comes to user experience, the number one expectation of a customer is FREEDOM."
Understanding the customer persona at the very beginning allows you to educate the customer with relevant information and leave room for them to explore the product. This helps in retaining customers.
Understanding Progress with Checklists
Atul Gawande, in his book 'The Checklist Manifesto,' says,
"Checklists provide reminders of only the most critical and important steps- the ones that even highly skilled professionals using them could miss,"
A checklist might come in handy for new customers who may need guidance during their initial usage.  Using a checklist to note progress not only prevents users from missing steps but also introduces customers to additional features gradually without overloading them with information.
Trainn uses the checklist approach to its customer onboarding process where ✅ and ❌ indicate the step-by-step progress during onboarding.
3. A Lack of  Human Assistance
Completely removing the human touch from customer service is one of the typical user onboarding mistakes in SaaS.
Microsoft's 2016 State of Global Customer Service Report states,
"Almost one-third (31%) of customers listed not being able to engage with an agent when they needed to."
The report also says that 60% of customers have stopped using a product due to poor customer service.
A chatbot might be of little help when a user faces serious issues. They end up frustrated and may leave without bothering to complain. Human assistance is the best practice but can every tool provide it?
Knowledge Hub for self-assistance
Providing customer service around the clock requires a high volume of human and material resources, which a SaaS company, in the initial phases, may not be able to afford in terms of both time and money.
In such cases, a knowledge hub with video tutorials and troubleshooting blogs can be a helping hand.
According to Forrester's latest report, customers prefer knowledge hubs for self-help more than any other automated assistance. This can provide quick access to troubleshooter articles or videos without leaving your platform, making the customer experience much smoother.
Incorporating videos into your onboarding process can be great if you plan on revamping it. In a survey conducted by Wyzowl on Customer Onboarding statistics in 2020, 69% of users said videos could be used to improve onboarding.
Creating a knowledge hub is just five steps away with Trainn. Start creating it now!
Reimagining Customer Onboarding Process
Customer retention is all about making your customers feel the 'aha moment' as quickly as possible. If users have taken the time to sign up, they intend to seek the actual value of your product. Give them what they need effectively.
Even the slightest mistakes in onboarding can be enough of an excuse for users to quit. Removing friction, directing users straight to the core function, and providing effective customer service and customer support can reduce churn rate and increase customer retention. If your onboarding process is peppered with these flaws, then it's time to rethink.
Connect with Trainn to create your first video.